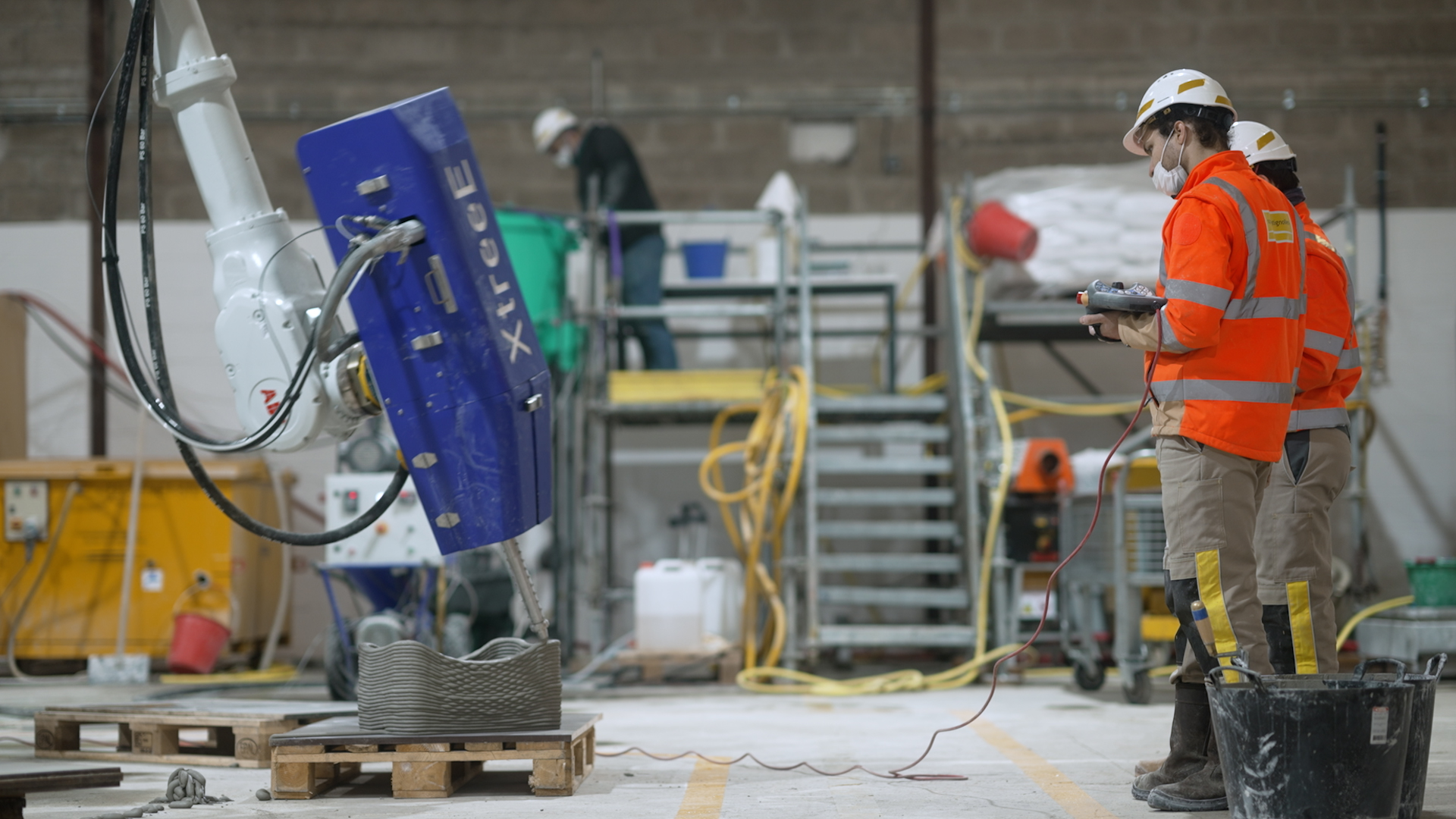 XtreeE, the French specialist in large-scale off-site 3D printing, announces the deployment of three new connected 3D printing units, operated by its partners in Switzerland, the United States and Japan. The simultaneous opening of these sites on three continents brings to 12 the number of deployed 3D printing units, and is part of XtreeE's strategy to build a worldwide network of more than 50 3D printing units by 2025.
The company is currently raising new funds to support its ambition, while the inauguration of 6 other units is planned by the end of 2023.
"Printing-as-a-Service" platform to connect project owners and designers with precast companies around the world
After two funding rounds (1,1 million euros in 2017 and 1 million in 2018) and the investment of Vinci Construction, Shibumi International (a fully-owned venture fund of Gülermak Heavy Industries and engineering firm Thornton Tomasetti) and Holcim France, XtreeE is accelerating the development of its global network of connected 3D printing units to enable the efficient production of custom structural building elements based on its technology.
Today, XtreeE's "Printing-as-a-Service" platform provides its customers with a catalog of certified products and numerous digital assistance tools to facilitate architectural design and the production of 3D printed parts. It enables designers and manufacturers to develop their projects with optimized and sustainable construction systems, while benefiting from dynamic support (training in parametric modeling or in the use of robotized 3D printing systems, for example) from the XtreeE team. It also connects project owners to the design community – architects, designers, and engineers – but also to manufacturers and builders around the world.
Any buyer of a 3D printing system becomes part of this ecosystem, joins the XtreeE community – composed of design offices, builders and architectural agencies – and benefits from all the platform's services. The challenge is to provide the Architecture, Engineering, and Construction (AEC) industry with new and more efficient construction systems, enabling it to meet the growing demand for better quality, individualized solutions at managed cost and time.
"Our model is based on a 'multi-local' ecosystem, which allows us to efficiently produce custom structural elements anywhere in the world. The challenge is to print as close as possible to the construction sites, and we support our partners locally with our digital platform and our design-build services", says Alban Mallet, co-founder and managing director of XtreeE.
Large-scale 3D printing to move on to the industrialization phase
Following the demonstration of the viability of its technology with more than 40 projects – including architectural elements (walls of Viliaprint, columns, façade panels), infrastructure (water and heating networks, telecommunications, etc.) and interior and exterior furniture (benches, chairs, desks, vases, etc.) – within its pilot plant in Rungis, XtreeE has been able to deploy twelve 3D printing units over the past few years.
In France, the spread of 3D printing in the building and public works sector took a new step forward when the Spie batignolles group, the first construction company to equip itself with a 3D printing solution in France, opened an additive manufacturing workshop in Ollainville (Essonne) in 2021.
After a year of experimentation and some 20 operations, the company is now moving into the industrialization phase with a dedicated offer – "EmPrinte" – and the opening of two other workshops in 2023.
In its catalog, the company offers the prefabrication of small standardized construction elements with high replicability, such as reservation boxes and formwork elements, as well as complex parts such as bridge segments or beam nodes.
In addition to tangible productivity gains and improved working conditions for employees (less hard and heavy tasks related to in situ construction), material resources are preserved and carbon emissions are greatly reduced, by using the right quantity of materials and lightening the overall weight of the elements. A reduction in carbon footprint of about 25% has been calculated for crossing structures such as a footbridge.
A multi-material technology to meet societal and environmental challenges
 As a matter of fact, XtreeE's objective is also to improve safety and reduce the environmental impact of construction.3D printing can reduce cement consumption in construction by up to 70 %, which manufacture generates 8 % of global CO2 emissions.
Although XtreeE today mainly uses ultra-high-performance concrete, it has also developed the use of other printable materials such as plaster, raw earth and geopolymers, or even more recently recycled leather. Thanks to its expertise, XtreeE also assists its customers in reducing their environmental impact by choosing local raw materials to reduce the carbon footprint of printed parts.
"The team's common ambition is above all environmental. 3D printing and more broadly the automation of prefabrication make possible more environmentally friendly constructions, thanks to an optimized use of locally sourced materials, reduce the risks of accidents on site and improve work conditions", explains Romain Duballet, co-founder and director of XtreeE.