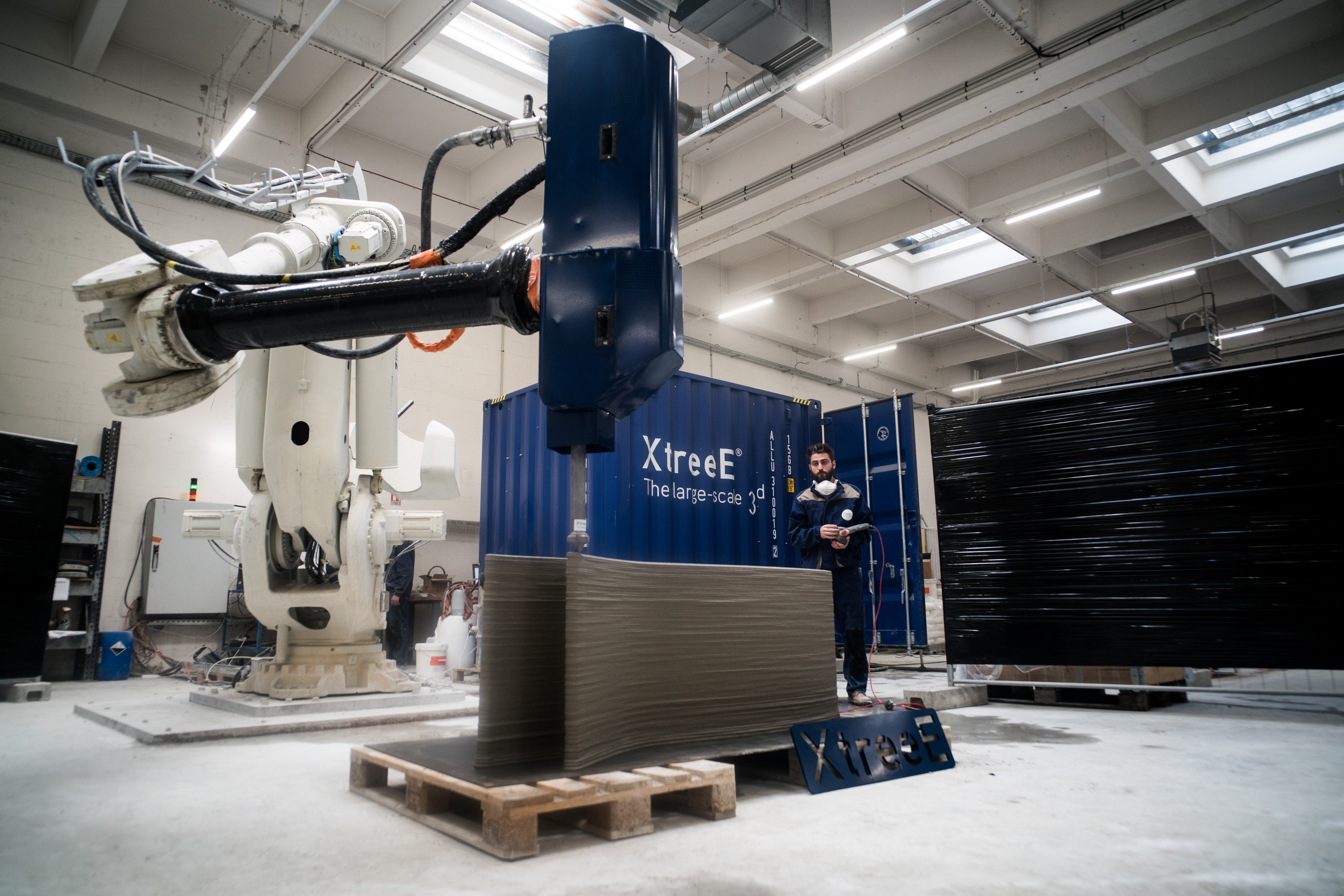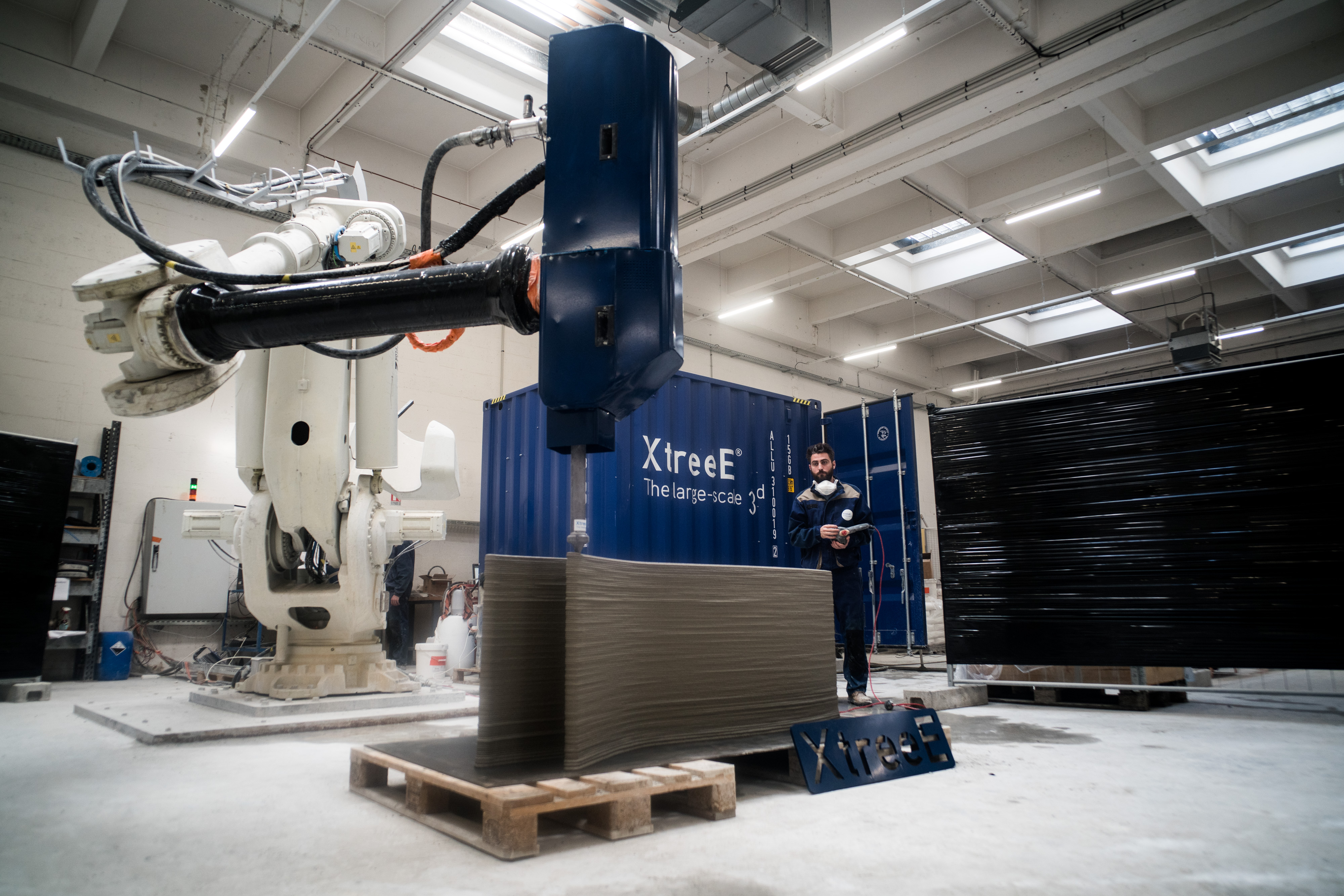 Paris, June 4, 2019 – XtreeE, a French start-up specializing in and pioneering large-scale 3D printing, is deploying its network of connected 3D printing units for construction. After its pilot plant in Rungis, XtreeE is contributing to the opening of a new production unit in the United Arab Emirates incorporating XtreeE technology, operated by Concreative.
This second production unit is more broadly in line with XtreeE's strategy to structure a network of more than 50 3D printing units connected worldwide by 2025. The opening of two other units in Asia is planned for 2019.
A business model based on the "XtreeE Printing As A Service" platform
XtreeE was born in December 2015, following a research project with the Paris Malaquais School of Architecture and based in the PIMM laboratory of the Ecole des Arts et Métiers. The XtreeE technology, protected by 10 international patents, required three years of collaboration with various partners. XtreeE now offers an integrated digital design and production solution for large-scale additive manufacturing.
Thanks to this process, architects, freed from the constraints of standardised formwork used in the construction sector, have the means to design more complex and efficient forms.
After two fundraising campaigns (€1.1 million in 2017 and €1 million in 2018), and the acquisition of Vinci Construction and Shibumi International (investment fund of Gülermak Heavy Industries and American engineering firm Thornton Tomasetti), XtreeE has formalized its business model based on the deployment of a global network of connected 3D printing units, capable of efficiently producing custom-made structural components based on its technology. In 2020, the launch of a digital platform "XtreeE Printing As A Service" will connect its customers to the community of designers (architects, designers and engineers) and 3D printers.
The aim is to provide the architecture, engineering and construction (AEC) sector with new and better performing construction systems. In particular, they must make it possible to meet a growing demand for better quality, individualized solutions at a controlled cost and time. The objective is also to improve safety and reduce the environmental impact of the construction. 3D printing reduces cement consumption in construction by up to 70%, which generates 8% of global CO2 emissions.
An innovative technology that keeps its promises
Very prolific since its creation, XtreeE has already been able to demonstrate the viability of its technology, with more than twenty projects, including architectural elements (walls, columns, façade panels), infrastructure (water and heating networks, telecommunications, etc.) and interior and exterior furniture (benches, chairs, desks, vases, etc.), including:
« Viliaprint© » :
To develop the construction of social housing in France by taking full advantage of 3D printing technology, this is the ambition of "Viliaprint©", for which XtreeE collaborates with Plurial Novilia (Action Logement group), the Coste Architectures agency and the Vicat cement group. This involves building five houses for social housing, mixing 3D concrete printing and off-site construction, a first in France. 3D printing, combined with the use of digital design tools, leads here to architectural freedom (integration of curves, parabolas, ellipses, etc.), reduction in material use thanks to the optimization of clothing and structures (by producing more hollows than solids) – an objective of reducing the volume of concrete used by 40 to 70% – and finally the reduction of delays, difficulty for teams, nuisances for residents and costs. Construction is scheduled to begin in early 2020 (Photos and illustrative video).
« Récif'lab » :
Reclaiming marine biodiversity through innovation and ecological engineering is the objective of this project. To this end, 32 artificial reefs – also serving as an anchor point – were eco-designed and printed in 3D and then immersed in the marine protected area of the Agatho coast off Agde. This is the largest ongoing ecological engineering project at the international level. XtreeE, Seaboost (Egis Group) and Vicat have combined their unique skills in ecological engineering, large-scale 3D printing and materials to design, manufacture and submerge these new generation anchors. They will provide habitats and nesting spaces for many species (fish, crustaceans, corals, algae, molluscs, etc.). The reefs were launched on 31 May 2019 (Illustrative photos).
« St@tion4D » :
A connected, mobile and customizable bench: this is one of the new players in the city of tomorrow. Created by XtreeE, in partnership with Razel-Bec, the Saint-Léonard Group and the architectural firm Aconcept, this new generation bench is being tested on the site of the future Massy Opéra station. It is part of a call for projects from the Société du Grand Paris, in partnership with Île-de-France Mobilités and the Association des maires d'Île-de-France, to rethink public spaces around stations and adapt them to users' needs in terms of information, comfort and security. It also allows local authorities to collect their usage data and suggestions from passers-by, via a mobile application, in order to make it evolve as best they can (Illustrative photos).
"The team's common ambition is above all environmental. Through these innovations, it is possible to build better and design new products to meet the major challenges of today and tomorrow. While 3D printing makes it possible, through the ease with which it is able to manufacture complex geometric shapes, to reduce both the costs and the overall impact of construction processes, it also makes possible rather unexpected objects, in the service of biodiversity," says Alban Mallet, CEO of XtreeE.
An innovative and proven technology to meet societal and environmental challenges
The sum of these achievements reflects the growth of the 3D printing market for construction – worldwide, this market is estimated at nearly US$40 billion by 2027.
In response to growing demand, XtreeE has developed, with industrial partners such as Vinci Construction, LafargeHolcim, Vicat and Saint Gobain, a technology that can meet the expectations of this market.
Moreover, 3D printing, fully integrated into existing construction techniques, provides an answer to various societal and environmental challenges. Indeed, while demographic forecasts predict an additional 2.5 billion people on the planet by 2050 (66% of whom will live in urban areas), a constructive model with controlled cost and time frame can contribute, in part, to curbing the housing crisis that is emerging today.
The impact on improving safety on construction sites is also significant: more than 180 million people work in the construction sector worldwide; and in industrialized countries, it is estimated that these workers are three to four times more exposed to the risk of work accidents or even death than in other sectors of activity.
Finally, from an environmental point of view, 3 tons of concrete are used per year for each person on Earth – this is the most consumed material after water. With structurally optimized parts, by positioning the right material in the right place using digital design tools, 3D printing offers the possibility to reduce cement consumption in construction by up to 70%. In addition, the removal of formwork significantly reduces construction site waste.
Today, XtreeE is therefore committed on several fronts: from individual housing projects to infrastructure design, much remains to be done to transform an industrial sector that must meet the requirements of productivity, resource saving and social progress. To this end, the young company also collaborates with the academic world to improve understanding and dissemination of tomorrow's technologies.
About d'XtreeE :
Founded in 2015, XtreeE is a French startup specializing in large-scale 3D printing. Thanks to its advanced technology, protected by 10 international patents, XtreeE is a platform that allows project owners, project owners, architects and engineers, designers, construction and prefabrication companies to design and produce optimized, desirable and sustainable construction systems. For more information: www.xtreee.com
Press contact :
Agence BPR France
Pierre Bethuel – pierre@bprfrance.com – 01 83 62 88 15 / 06 60 91 78 89
Maxime Forgues – maxime@bprfrance.com – 01 84 17 11 73 / 06 71 43 41 00