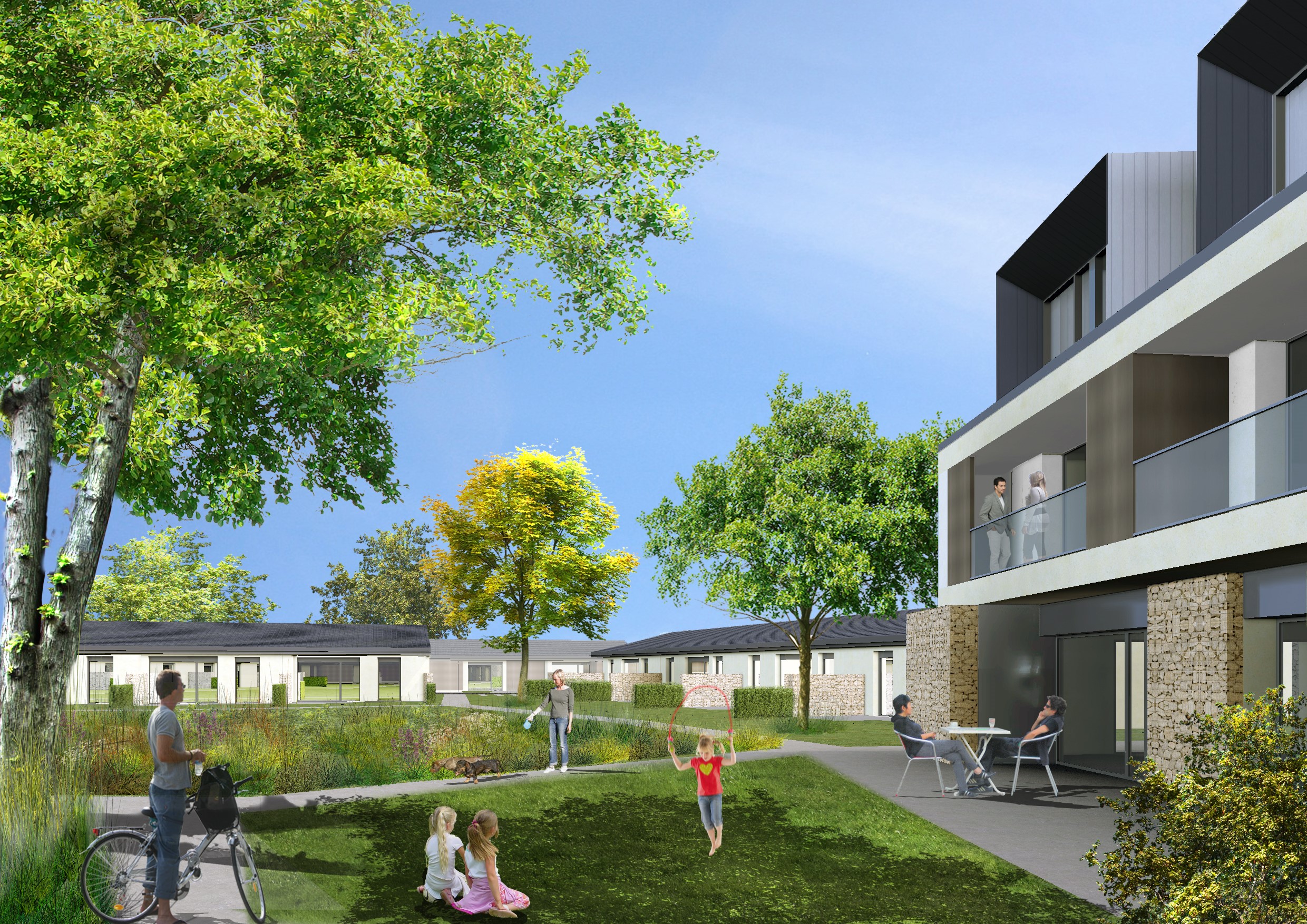 Jean-Pierre BELFIE, Mayor of Bezannes, Michel CHATOT, President of ARPAVIE, Bruno ARCADIPANE, President of the Action Logement group, Catherine VAUTRIN, President of Grand Reims and Jean-Claude WALTERSPIELER, President of Plurial Novilia laid the foundation stone of the future residence Source de Muire, located within the future Intergenerational Centre in Bezannes.
As project owner, Plurial Novilia, Entreprise Sociale pour l'Habitat (ESH), a subsidiary of the Action Logement group, has devised with the city of Bezannes, an Intergenerational Centre enabling all generations to meet, interact and live together within a common project. This real estate complex will include senior housing, but also homes for sale, rental houses and plots of land for sale.
The autonomous residence Source de Muire, designed by Plurial Novilia, the firm of architects Thienot Ballan Zulaica and ARPAVIE from Reims, is a central point in the life of the future district.
As the first association manager of residences for the elderly, ARPAVIE has been chosen to manage this autonomous residence, which is scheduled to open in the 4th quarter of 2020.
Located in the town hall district and close to all associative activities, the Source de Muire residence will offer 79 housing units ranging from T1 to T3, including 10 T1 dedicated to young workers and students.
A new kind of residence
The residence will be composed of pavilions with single-storey gardens (61 units) and a building
which will include common areas and 18 housing units. The residence will also offer
36 garages and 25 parking spaces.
Close to transport and the TGV station, the residence is ideally located near the most important
large clinic in France (Polyclinique Reims Bezannes) and many medical services and
paramedical (dentist, prosthetists,…).
The advantages of the residence
The residence will offer a high level of comfort and low energy consumption (RT 2012).
Particular attention was paid to home automation with several devices increasing the
comfort of life of future residents such as: programming of heating, presence detector and
self-regulation, the intelligent switching off and opening of shutters and lights, the installation of
electronic locks, the installation of a footboard night light per room (autonomy assistance).
Moderate rates
In addition to offering a comfortable residence, ARPAVIA, faithful to its associative convictions,
will offer affordable rates to low-income seniors.
Pavilions with level gardens
– 51 T2 of 54-55m² => Rent: 1 000 €
– 10 T3 apartments of 67-70m² => Rent: 1 200 €
Central building with common areas
– 8 T1bis of 35 m2 => rent : 700 €
– 10 furnished T1s for young workers / students including 8 of 26.5 m2 and 2 of 22.3 m2
Rent: 450 €