Sepro Group, world leader in robotics and automation for the plastics industry, and Universal Robots, Danish manufacturer of light robots and pioneer in the collaborative robotics sector worldwide, have signed a partnership agreement in the field of collaborative robotics and industrial automation.
Under the terms of this agreement between Sepro Group and Universal Robots, Sepro Group will integrate its Visual control command into the collaborative robots (cobots) distributed by Universal Robots (UR). The Visual control command has been specially designed by Sepro for robots used in plastic injection moulding machines. All Sepro robots, including co-branding technologies, are controlled by the same Visual command, which allows the same user experience regardless of the type of robots used.
Jean-Michel Renaudeau, Chief Executive Officer of Sepro Group, said: "I am pleased to announce this partnership, which completes our already extensive product portfolio. I am convinced that the combination of Sepro Group's expertise with the innovative collaborative technology developed by Universal Robots will offer our customers greater flexibility and a wider choice of automation solutions for plastic injection."
Jürgen von Hollen, President of Universal Robots, said: "We are delighted with our new partnership with Sepro Group and the opportunity to enter the plastic injection market. Sepro has expertise and knowledge in industrial process automation, and Universal Robots is the leader in the collaborative robotics segment. Together, the two companies will be able to offer effective, safe and easy-to-use solutions for a large number of customers in the plastic injection industry."
This new partnership will enable Sepro Group to offer the widest range of automation solutions on the plastic injection market. The product portfolio includes Cartesian robots, 6-axis articulated arms and now cobots. Like 6-axis robots, cobots are perfectly suited for peripheral operations. The demand for such solutions is growing in the plastics industry. Sepro Groupe thus offers a perfectly coherent automation solution and supports its customers in choosing the solution best suited to their needs.
Cobots that are easy to integrate
By integrating Visual control command into a cobot for the first time, Sepro Group ensures the integration of UR technology with other Sepro robots and all types of plastic injection presses. Customers can now design secure and open configurations for different tasks, such as peripheral operations or complex automation cells. The new solutions developed by Sepro and Universal Robots guarantee simplified testing, shorter deployment time and faster installation.
Under the terms of the agreement, Sepro will provide service for Sepro and Universal Robots solutions worldwide. With more than 150 experts and 42 service centers close to its customers, Sepro will be able to provide local service with the same level of quality with Cartesian robots, 6-axis robots and cobots.
The new Sepro and Universal Robots solutions will be presented on the Sepro Group stand (Hall 12/A49) at the K2019 exhibition in Düsseldorf, Germany, from 1 to 23 October 2019.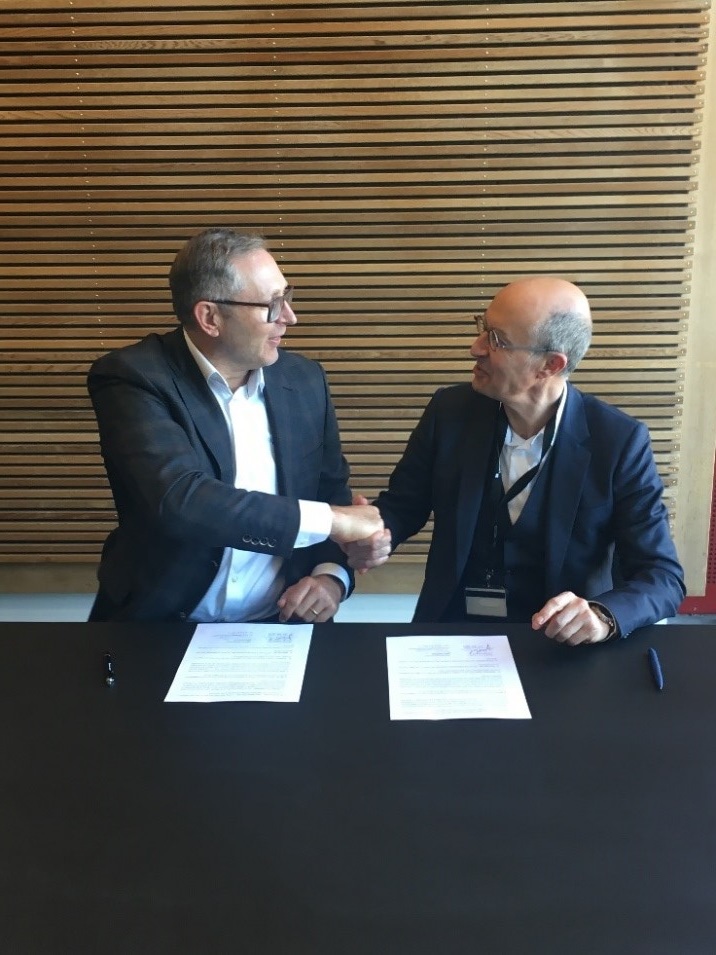 Jürgen von Hollen, President of Universal Robots (left), and Jean-Michel Renaudeau, Managing Director of Sepro Group (right), sign a partnership agreement at Universal Robots' premises (Odense, Denmark)